Check out our latest belt-less carry options, the Fabriclip IWB and Ulticlip IWB !! Keep reading for more great belt-less holster options….
When I started training in preparation for everyday carry, one of the first things my instructor and my husband told me was, "Get a good sturdy belt that's made for carrying a holster and gun." In fact, you'll see and hear this logical advice repeated in many places, including in our own classes and on our website. I'm not arguing against that logic at all. A good sturdy belt and holster have their place in my arsenal, especially for tactical training and competition. But the thing is…I really don't like to wear belts! I've never worn belts and ninety-plus percent of my everyday wardrobe is usually belt-less.
Fortunately, the firearms industry has been hard at work the past few years trying to make products for increasing numbers of concealed carriers who want to carry everyday in their "normal" clothes. Whether you are a fan of all-day-everyday yoga pants (don't lie, you would do it if you could!) or just like to wear your jeans without a belt, there is a carry option for you. One caveat – whichever carry system you ultimately choose, it is vital that you practice your draw with that particular setup and be certain that you will be able to access your firearm reliably.
Here is a brief rundown of our five favorite options for belt-less carry:
1. Sticky Holster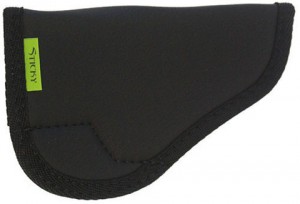 I won't take up too much space here talking about the Sticky Holster because you can check out my previous review and my video review to get more details. The bottom line is that everyone should have a Sticky Holster in their holster lineup. It is almost unmatched in simplicity and versatility, not to mention the reasonable price and durability. The Sticky uses compression and friction to stay in place wherever you put it around your waistline. The compression part is key, so it may not stay in place with loose fitting pants. With that being said, I've worn mine with sweatpants using a tied drawstring without any issue.
2. Hipster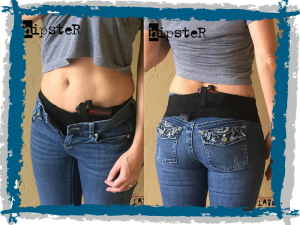 Like the Sticky Holster, the Hipster holster from Femme Fatale is an extremely simple and versatile option for belt-less carry, especially if you want to wear loose fitting pants or skirts/dresses. The belly-band design uses a surprisingly comfortable stretch fabric that provides its own compression and has pockets for inserting your carry gun, extra magazines, pepper spray or your smart phone. The design allows you to spin the band around your waist to carry at any position and the band can be worn under or over your pants-line.
3. Lace Corset Holster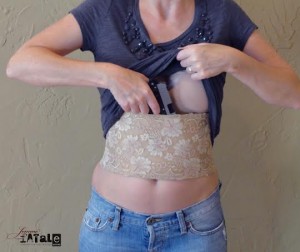 The big sister of the Hipster, this more feminine and lacy corset-style holster has always been one of my favorites. It is slimming (who doesn't want to look slimmer?) and surprisingly comfortable once you get used to it and it provides plenty of space for my carry gun and an extra magazine. Check out my video review of this holster.
**Note: There is a trade off when it comes to comfort. The above mentioned holsters are soft-sided (not kydex) and because I am a huge advocate of trigger protection I highly recommend using a trigger guard cover with any soft sided holsters like the Hipster or Corset. This is a simple and cheap way to increase your level of safety.
4. Kydex with Fabriclip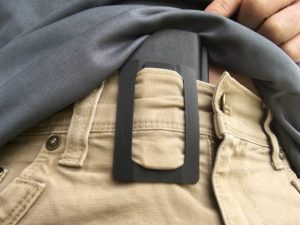 One of the newest options on the concealed carry scene, the Fabriclip IWB Holster is a great choice for those who prefer the durability and structural integrity of kydex holsters. The clip locks directly onto clothing or any other fabric so you can use this one inside of a purse or backpack as well. Paired with our lightweight inside-the-waistband kydex holster, this setup works great for minimalist everyday carry.
5. Kydex with Ulticlip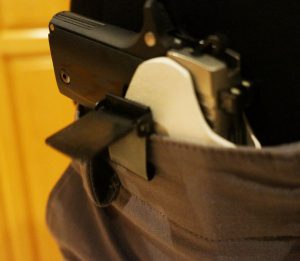 Another great option for those who prefer kydex holsters, the Ulticlip IWB Holster design provides the highest level of weight-bearing retention of any clip on the market. What does that mean? It means that when you clip it onto your pants or inside a purse or bag, your holster will stay exactly where you put it. This is especially important if you have to run or make other sudden movements and during the draw process when a loose fitting clip can cause you to fumble at precisely the wrong moment. The clip itself is almost unnoticeable on the pants line when used with our inside-the-waistband kydex holster.
Good luck finding a belt-less carry option that works for you!
Comments