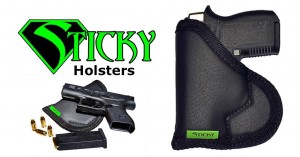 I'll begin this review by saying that my Sticky Holster is the holster that I use most often and nearly every day. I have tossed many other products into my holster box, where they sit and collect dust most of the time. The Sticky IWB, however, is one that meets all my most important criteria: it secures my SigSauer P238, gives me ready access to it when needed, and it is super easy to conceal. Perhaps most importantly, the Sticky Holster is very comfortable, especially in the southwest Florida heat.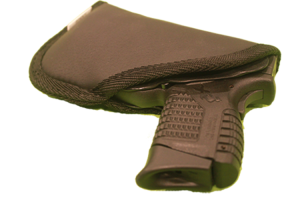 The design of the Sticky Holster is extremely simple. It resembles many of the pocket holsters (and can be used as such) on the market because it does not have any sort of clip, strap or other device to attach to a belt or pants. The genius of the design is in the material. The holster exterior consists of a non-slip material that adheres comfortably to your skin or inside of a pocket. The interior is a soft foam material that allows the firearm to be drawn without scratching the finish.
When you place the holstered firearm between your skin and pants, the pressure of snug pants is enough to secure the holstered firearm in place during most normal daily activity. I wear tight fitting jeans most of the time and I never worry that the holster or firearm will come loose. If your pants are a bit big around the waist, you may want to use a belt to help secure everything in place. My husband wears baggy cargo shorts a lot of the time and uses a nylon belt to keep the Sticky Holster tight against his hip. With this setup, he can run or jump and not worry about losing his firearm.
Since there are no clips or other attachments devices, the Sticky Holster can be used in a variety of positions to provide easy access to your firearm or better concealment. Most of the time, I carry my P238 at about the 5 o'clock position. I find that this position gives me a good balance of accessibility and concealment. Sometimes my choice of clothing makes concealment a bit easier in the front. The Sticky Holster easily adapts to appendix carry – just put it where you want it and off you go. The lightweight material of the holster is super comfortable against my skin, especially in the Florida heat. It protects my firearm from sweat and keeps a secure hold.
Sticky Holsters are advertised as being a modular system. Basically, this means that the one holster can adapt to different situations, such as thigh and ankle carry. If I want to carry my firearm around my ankle, I still used the same basic Sticky Holster that I already use every day. By using Sticky's Anklebiter rig, I can str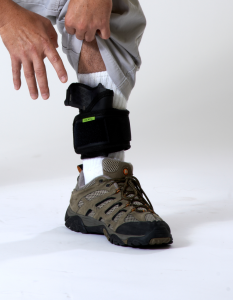 ap my holstered firearm comfortably around my lower leg. Similarly, the Guard-Her Belt system gives me the ability to wear my holster around my thigh. While I prefer to just use the regular Sticky Holster on most days, it is nice to have the ability to change the position if I want or need.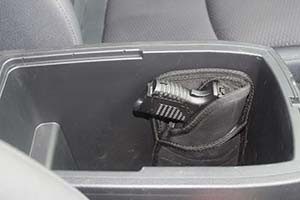 The Sticky Travel Mount is especially handy. The mount can be placed anywhere inside the vehicle, such as in a center console compartment, glove compartment or in between seats, and allows for quick access to your firearm while in the vehicle. Once you have the mount in the vehicle, you simply remove the holstered firearm from your carry position and slide it into the mount. The "sticky" material and a Velcro strap keep the firearm and holster nice and snug. When I'm ready to exit the vehicle, I simply remove the holster and firearm – using safe gun handling procedures of course! – and re-insert into my pants. Additional mounts can be used in other locations as well, such as on the side of a nightstand, in a motorcycle saddlebag, or in a compartment on your boat.
It is plain to see why Sticky Holsters have become a popular product among the concealed carry crowd – the holsters provide adequate firearm security, multi-position accessibility and comfortable concealment. The products are simply designed and work for me on a daily basis. To sweeten the deal, Sticky Holsters is a local company (for those of us in southwest Florida) that stands by its products with a lifetime warranty on materials and workmanship. What more could I ask for?
Comments