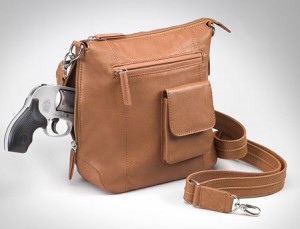 In picking up the Flat Sac Concealed Carry Purse for the first time, I noticed a couple of things right away. It feels very sturdy and I can tell it will last a long time. The leather smells amazing and is very soft. It does not look like a purse made to hold a gun. The slash-resistant straps are substantial and will not break. There are lots of nooks and crannies to put all of my things and the gun compartment has a nice holster that fits my pistol. The holster is attached to the purse via velcro and is fully adjustable and ambidextrous. I especially like the outside pocket that I can keep my phone or keys in for quick access.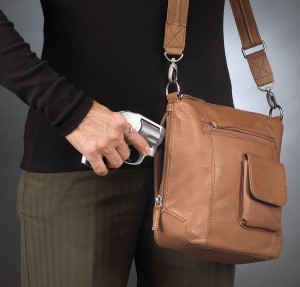 It is very important for me to be able to access my firearm quickly, so I ran it through some drills to see how smoothly I would be able to draw. First of all, the gun compartment is easily accessible from both sides of the purse via zipper entry. Secondly, the purse strap has a wide range of lengths. My preference is to carry cross-body and I was able to dial-in a comfortable length right away. Getting my hand into the gun compartment and drawing my firearm was relatively simple. It did not catch on anything on the way out and the adjustable holster on the inside allowed me to put the firearm in the exact position I needed. I did struggle a little when I tried to access my firearm with my left hand while carrying the purse right handed at about 2 o' clock. This more likely an operator issue and with some practice will be do-able.
If you decide to carry your firearm in your purse there are some safety considerations I would like you to think about. First, you can never set your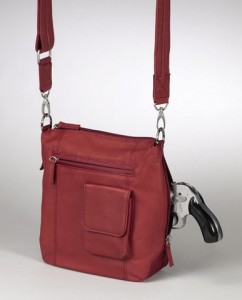 purse down. This makes it too easy for others to get their hands on it or you to forget it. This is why I prefer cross-body style as the purse stays out of the way and on my body all day. Secondly, you have to train this way. Make sure you practice drawing the firearm (unloaded) until you are comfortable with it and can do it without having to think about it. Thirdly, consider the fact that you can shoot through the purse itself. I had another instructor bring this to my attention and it is a nice revelation. The gun will fire right through the fabric if you are not able to retrieve your firearm for any reason. Carrying in the Flat Sac Concealed Carry Purse has its pros and cons, but it is definitely comfortable, feasible and fashionable.
Comments