Summary: This is a beginner to permit class, good for any level of shooter. Students will learn the basic knowledge, skills, and attitude for owning and operating a pistol safely. The class exceeds the State of Florida training requirement for obtaining a Florida Concealed Weapons Permit and passing students will receive a Certificate of Completion to be presented with the permit application.
Click HERE to choose your date and reserve your spot!
Click HERE to view all of our upcoming events.
More Details: We have designed our Florida Concealed Weapons Permit course to be one of the most comprehensive permit classes in Southwest Florida, covering much of the same information as our Handgun Fundamentals class. Why? Because Florida "requirements" are few and while we agree that it is the personal responsibility of each student to learn and practice the fundamentals, many permit classes fall short in providing beginners with a solid foundation in favor of expediency and/or to maximize dollars/hour. W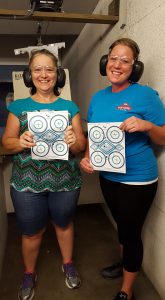 e want to go the extra mile to help our students understand all of this important information.
What? Our course is approximately 4 hours long depending on class size and includes classroom and range time learning to safely load, unload, and shoot both revolver and semi-automatic pistols of various calibers (.22, .38 and 9mm). We cover a lot of ground in the classroom and students will learn basic rules for safe gun handling; pistol parts and operation; ammunition; shooting fundamentals; range rules; basic cleaning and maintenance; storage; malfunctions; a gear review and how to continue onward with skill development. Additionally, we like to present the basic legal aspects of using a firearm for self-defense, including the Castle Doctrine and Stand Your Ground law.
At the range, each student will fire approximately 20+ rounds using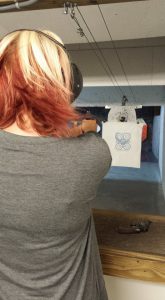 three different types/calibers of handguns. The instructor will coach each student through the fundamentals and make corrections as needed. The student will leave with confidence that he/she can safely load/unload/operate both semi-automatic pistols and revolvers. Students will receive a Course Completion Certificate that may be presented upon application for the State of Florida Concealed Weapons Permit.
Fees: $135 per person. Includes everything: instructional materials, ammunition, firearms, range fees & gear. All you need to bring is a valid ID and a snack/drink if you desire. Please wear closed toe shoes and no loose or open top tanks/shirts/blouses.
Instructor(s): Sara and/or Jason – Athena's Armory Defensive Training
Notes: We try to leave the ego at home and work to make sure you finish the class with the basic skills and confidence to begin carrying a firearm as part of your personal defense plan. In this class, you will put multiple rounds downrange using a variety of different pistols to get a feel for the different types/calibers.
This class is great for company and/or social groups and is adaptable to the experience and needs of the students. The classroom portion can be taught at your location of choice, followed by a trip to the local range. Group rates can be arranged.
To inquire about or schedule this class, please call 239-687-3523 or Email Us
Comments
Tags:
Featured