It doesn't matter if you are a newbie to shooting or concealed carry or if you have been plinking around since Jeff Cooper was in basic training, you will most definitely need to travel with your firearms at some point. Maybe you have a cross-country RV trip planned for the summer or maybe you are just headed out to a state park for the weekend. Some of you probably just want a simple solution to lock up your gun while you run into your child's school (yikes, one of those pesky gun-free zones!?). Fortunately, there are a couple of really simple solutions that will make your life easier while on the road.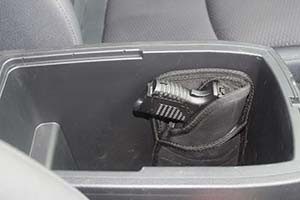 The genius of the Sticky line can't be understated – we love them! And now, the modular holster system has expanded to include a universal travel mount – it fits all Sticky Holsters. Yes, it is a vehicle mount, so that includes cars, trucks, R.V.s, boats, camping trailers, jeeps, air boats, canoes and giant 4WD swamp buggies – this is South Florida, right? It also works well in soccer-mom minivans (I am living proof!), tractors, ATVs, and inside a saddlebag or side case on a motorcycle.
The Sticky Travel Mount is super easy to setup, just peel off the stickers and it adheres to almost any surface. Once affixed, your Sticky holster can be removed from your waistline or other holstering position and placed into the mount where it will stay safely secured until you need to re-holster. Best of all, like the other Sticky products, the vehicle mount is a quality product made in the USA and is very affordable. It is a no-brainer to get one of these for your main vehicle and, chances are, you will soon have one for the boat, the RV, and mud truck.
VEHICLE LOCK BOX
Lock boxes are used to keep valuables and firearms locked safely away, usually chained to the seat frame under your vehicle seat, while you are away. There are a couple reasons why we like this product better than the others.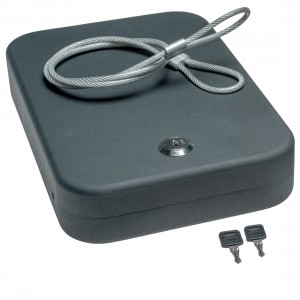 Perhaps the most important feature – the lock boxes are offered in paired sets that are keyed alike and include 4 keys. You can keep one in each car and you and your wife can have a key that will work either safe. Or, keep one in the car and one in the RV or camper and not have to worry about which key is which on the ring. Like most of the other products we sell, SnapSafe lock boxes are made in the USA using quality components. The lock boxes are 18-gauge pry resistant steel and the cable is 1500 pound test strength. Nobody is getting this thing out of your car without some serious effort and noise.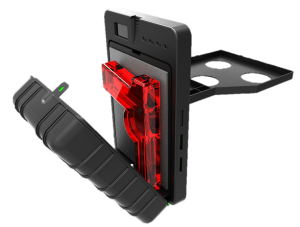 FINGERPRINT GUN SAFE
This one is perfect for RV'ers that have a bit more space to work with inside the vehicle and is one of the coolest products we offer. This small (single firearm) mountable gun safe opens immediately via fingerprint scanner and, to ensure reliable access, can be opened with a 4-8 digit code or with a key as well. This safe is perfect for mounting on the side of the bed and it uses a special barrel tube to keep your loaded firearm vertical and ready to use at a moment's notice. It is silent and fast to open and makes for a great way to keep firearms ready without sacrificing safety around kids and visitors.
TRAVELING THE 50 STATES
This book is the undisputed heavyweight champion for simple explanation of firearm laws in every state. And what makes it so great is that it is not 500 pages of legal mumbo-jumbo. It is well-organized, concise, and extremely easy to read and understand. The Traveler's Guide will provide you with a wealth of valuable information on what each state allows and requires regarding firearms, concealed carry, knives, and other weapons. This is a must-have for anyone that is considering traveling the open road with their firearms.
Be safe and have fun out there this summer!
Comments