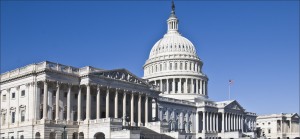 Operation Choke Point is an initiative of the United States Department of Justice that began in 2013 and involves the investigation of banks and payment processors and their relationships with other companies in high risk areas including, but not limited to, the firearms industry. Although the DOJ has denied any wrongdoing, the Obama Administration and Attorney General Eric Holder have been accused of using the operation to circumvent due process and shut down businesses that deal in products and services the Administration doesn't like, regardless of if the businesses are operating in a totally legal fashion.
Many of the country's largest financial institutions, including Bank of America, Fifth Third, Capital One, Wells Fargo and U.S. Bancorp have cancelled accounts with numerous companies involved in industries deemed high risk by the DOJ, citing pressure from the government.  Many companies within the firearms industry have had banking relationships severed abruptly for little or no reason. Until recently, most of the details of this program have been shrouded in secrecy.
Recently, the House of Representatives Oversight and Investigations Subcommittee made some progress in shedding light on the program, finding that indeed, legitimate firearms related companies were specifically targeted. Unfortunately, testimony on the program was mostly vague and non-committal and there have been no repercussions for those involved in directing the targeting. For now, there has been a bill, H.R. 766, introduced to increase transparency and accountability in the oversight of banks and to help prevent this kind of abuse of power in the future.
As with most firearms related issues, the NRA and its lobbying group, the NRA Institute for Legislative Action, are leading the way in this fight.  Please visit https://www.nraila.org/articles/20150327/choke-point-hearings-yield-predictable-responses-from-fdic-chairman for the latest on this story.
Side Note: Athena's Armory experienced this kind of discrimination first hand as it was developing its initial technology relationships. Stripe, a payment processing solution, refused to allow our company to use its software because we sold products that are deemed weapons (stun guns, pepper spray), even if said weapons are used for self-defense. Stripe passed the buck and blamed its policy on the members of its payment processing network, companies such as Visa, Mastercard,etc… saying that it was in fact these companies that do not allow the sale of weapons. After some more research, our company chose Payment Alliance, a partner of the NRA, for its merchant account. If you are looking for a merchant account and/or a payment processing solution for your retail or Internet business, we have been very happy with PAI so far.
Comments