Every year in January, gun and gear manufacturers release new products at the industry's annual SHOT Show in Las Vegas. For 2018, we wanted to give you a heads up on a few new pistols designed for everyday carry. It seems that some of the other big manufacturers are trying to match the popularity of Glock's 43…
All of these guns would be great choices for everyday personal defense, especially ladies who need a smaller gun that is easier to conceal. Whether you carry in the super-comfy Hipster Holster, like to use a simple kydex purse holsters to keep your pistol close at hand or want to make the pistol disappear in one of our IWB Multi-hardware Holsters, any of these little guns is a good choice.
Sig Sauer P365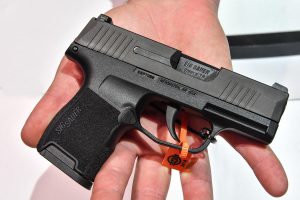 Sig Sauer is enjoying a lot of extra media attention and renewed popularity since the United States Army chose the modular P320 as the new standard service pistol. Of course, Sig sells many different types of firearms that are popular among military and law enforcement and saw great success in the civilian concealed carry market with its small .380 caliber P238. Sig is raising the bar again with its new P365, a compact 9mm pistol designed specifically for everyday carry.
The big draw with the P365 is that although it is slightly smaller than its main competition, the M&P Shield or Glock 43, it holds 10 rounds in the flush fit magazine and 12 in the extended magazine. More ammunition in a smaller package is a good thing. Another bonus is that Sig makes night sights standard on the pistol, eliminating the need to buy and install this popular upgrade. A MSRP of $599, probably $499 in stores, makes for Sig quality at a very affordable price.
Ruger EC9s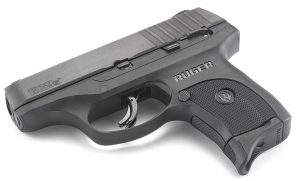 Ruger is hoping to draw in many budget-minded concealed carriers with its latest offering, the EC9s. For a rock bottom MSRP of $299, probably less in stores, you can get an entry level version of the Ruger LC9. It is basically the same pistol, but has built in (you can't upgrade them) sights and includes only one magazine. It is meant to be a simple, dependable and affordable choice for first time carriers that want a "no-brainer" solution.
Springfield Armory 911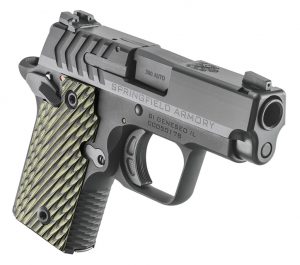 One of my favorite concealed carry pistols is the Sig Sauer P238. It is a very popular .380 caliber pistol patterned after the larger 1911 pistols, but meant for concealed carry. Springfield Armory has decided to chase this segment of customers with its own 1911 pattern .380 in the new 911 Series. The pistol comes very well equipped with G10 Hogue grips, tritium night sights and a variety of finishes. It comes with 2 magazines, one six rounder and an extended 7 rounder for MSRP $599. There is a Viridian laser equipped model available for MSRP $789.
Head out to your local range and try these pistols out to see if one may be your new everyday carry! Of course, we will let you know when we have holsters available for these models ASAP.
Comments