We recently attended the

2nd annual United States Concealed Carry Association Expo in Atlanta, Georgia. The expo is a place for manufacturers, wholesalers, and retailers of concealed carry gear to showcase their products. In addition to the many products for sale, there were training seminars on a variety of defensive topics and a live-fire mobile shooting range (yea!) for attendees to test fire popular carry handguns.
We went to get an up-close look at the only industry event focused on the "concealed carry lifestyle", to meet some of the manufacturers we work with and to look for new products to offer our customers. Having accomplished these three things (and met Sheriff David Clarke!), for us, the weekend was a success. Here are some things we learned.
Flying With Guns Is No Big Deal

We love a good road trip and almost always choose to drive to our destinations. This time, however, flying was in order and it gave us a good opportunity to fly Delta with our concealed carry firearms. W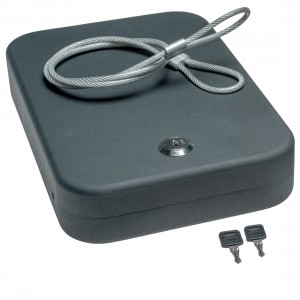 e had to  check-in at the main Delta counter and declare our two unloaded concealed carry firearms. Our guns had to be in a TSA approved lock box inside our checked (preferably locked) luggage.
The Delta attendant had us sign a special tag for inside the luggage which verified the guns as unloaded and then we were off. The only difference in Atlanta was bringing our luggage to a special handling area where it was checked by a TSA employee before being sent off to the airplane. Ammunition was OK in the luggage as well. Be sure to check with your individual airline for the proper procedure.
The USCCA Wants You!
The USCCA has been providing education, training, and liability insurance to responsibly armed Americans since 2003, but it seems like only recently that the group has broken into the mainstream. It now provides an instructor training and certification program and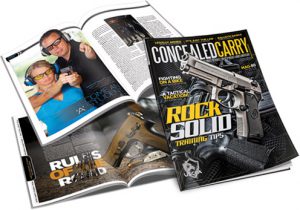 a monthly Concealed Carry magazine with 120,000+ readership.
The USCCA Expo is only in its second year and attendance seemed a little spotty at times. Maybe our expectation was too high (doesn't everyone love firearms and CCW?) or perhaps the local marketing effort was lacking because the hotel and restaurant staff nearby did not seem to know much about it at all.
The attendees were enthusiastic, however, and the free training seminars on basic defensive issues were overflowing – who doesn't want free training! The more advanced skill sessions – which required $50 tickets – featured some big names in the industry and were mostly sold out as well. I would be surprised if any of the vendors had record sales for the event, but we did notice many purchases being made over the weekend.
While the USCCA offers a lot of information and has crafted a great brand around the concealed carry lifestyle, only time will tell if its core product (insurance) will compete with long-established groups like the Armed Citizens Legal Defense Network.
Holsters, Holsters, Holsters!
Gear manufacturers have responded to the rise in concealed carry permits nationwide by developing different holster materials, different carry position options, and all sorts of other methods for concealing a firearm on your person, including specialized lines of clothing, bags, and CCW Purses. Not surprisingly, the expo was chock full of holsters for everyone, every occasion and every style. Your excuse for not being able to conceal a gun because of (insert reason here) is no longer valid.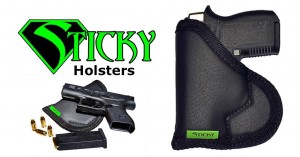 Of course, the Sticky Holsters booth was full and it remains one of our favorites for everyday carry. Femme Fatale's new Hipster is another great lightweight option for women who carry everyday. We are working on rolling out some great new holsters soon so keep checking our website and Facebook page!
Small Business Drives the Economy
The big names in the firearms industry were well represented at the expo, but we were impressed by the number of smaller family-owned businesses that have found success as well. Companies like Femme Fatale, Cook's Holsters, Cardini Leather and Packin'Neat are the embodiment of the American dream. They discovered a problem and developed quality products to meet customer need. They are hard at work everyday trying to earn more business. These are the kinds of companies we choose to work with and get inspiration from in our own endeavors here at Athena's Armory.
Its All About the Women, But…
If you have been following the firearms and concealed carry industries lately you already know – its all about the women! Of course this is a primary driver for our business as well. The USCCA's Beth Alcazar did a great job of moderating dedicated women's seminars including a women-only coffee chat group, a women's panel discussion featuring a few other industry leading females, and even a full-blown runway fashion show. As for vendors, there were more than a few companies owned and/or run by women and almost every dealer represented had something for women displayed prominently.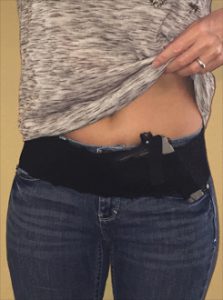 However, upon closer inspection, we found that only a handful of products were specifically designed for women, rather than just being repackaged and marketed differently. Our favorites were the Hipster belly band holster from Femme Fatale and the versatile purse holster insert by Packin'Neat. Both products solve uniquely feminine issues – how to carry on the waistline without a bulky gun belt and what to do when purse carry is necessary.
The bottom line for us: Despite all the hype about women and guns, and a well-presented expo hosted by the USCCA, we noticed that attendance was still predominantly male. Maybe the hype is more than the reality and only time will tell. So, my message to all of you ladies – get out there and keep shooting!
Comments